WordPress theme 5 Years was built following goals: simple and light theme for fifth anniversary of my blog.
You can download 5 Years from WordPress Themes or from here:
5 Years has been built on 960 Grid System, with minimal number of used colours:
Techcrunch green [#008C00]
Flock Blue [#4096EE]
Flickr Pink [#FF0084]
Ruby on Rails Red [#B02B2C]
Features of 5 Years theme
light
two columns
right hand side sidebar
widgets supported
RHS widget area (Primary)
foru widget areas below content
support for Posts per Cat
translated to English and Serbian
supported wp_head and wp_footer hooks
two columns for recent posts on front page
support gravatar
comments from blog author highlighted in different colour
valid XHTML 1.1 and CSS 2.1
customized layout for Print media w/o unnecessarily elements
visual indicator for number of comments (gray icon = no comments, blue icon = up to 10 comments, red icon = more than 10 comments)
released under terms of GNU GPLv3
How it looks
Blog look with 5 Years theme w/o Posts per Cat plugin, with customized widgets: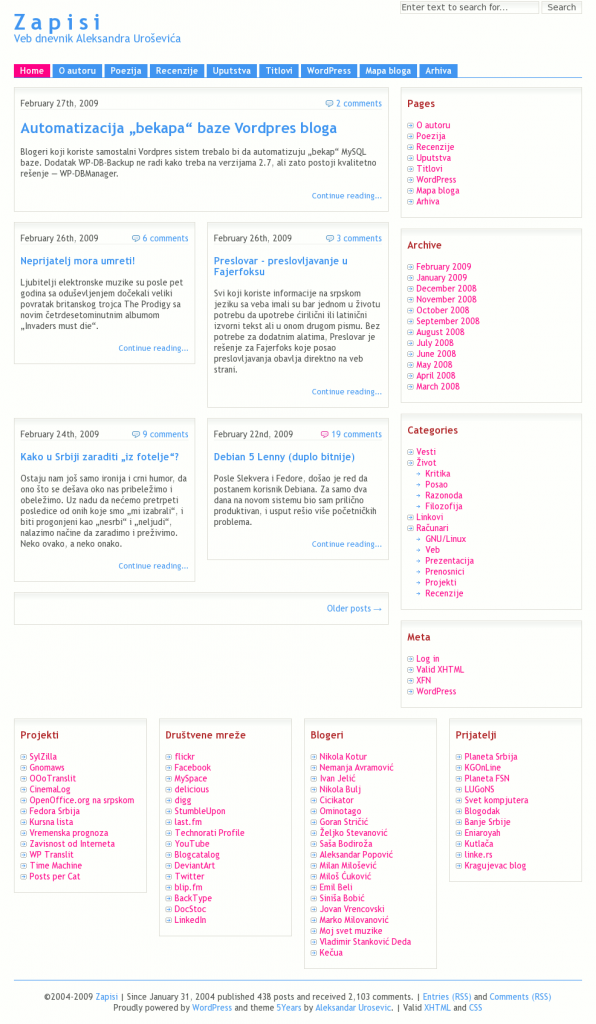 Legal Terms
Theme 5 Years has been published under terms of GNU GPLv3. If you wish to enhance or modify it, feel free to do that. I will just like to you leave link to this website in footer.