Stock Ticker is extension for WordPress that help you to easy display ticker tape with stock prices information with data provided by Yahoo Google Finance AlphaVantage.co.
Jump to: Features | Download | Installation | Usage | FAQ | Customize | Preview | Your Support
Features
Configure default set of stock symbols that will be displayed in ticker
Configure default presence of company as Company Name or as Stock Symbol
Configure colours for unchanged quote, negative and positive changes
Disable scrolling ticker and make it static for individual ticker
Both, global and widget settings provides easy colour picker for selecting all three colour values
Tooltip for ticker item display Company name, Exchange and Last trade date/time
Define custom names for companies to be used
Plugin uses native WordPress function to get and cache data from Google Finance for predefined duration of time
Ready to be translated to non-english languages
Download
Download plugin below or visit WordPress page for Stock Ticker.
Or visit official WordPress.org page here https://wordpress.org/plugins/stock-ticker/
PLEASE NOTE: Due to violating Yahoo's Terms of Service, Stock Ticker has been changed to use Google Finance as source of data.
Installation
Easy install Stock Ticker as any other ordinary WordPress plugin
Go to Plugins –> Add New
Search for Stock Ticker plugin
Install and activate Stock Ticker
Configure default plugin options and insert shortcode [stock_ticker] to page or post, or Stock Ticker Widget to preferred Widget Area
Usage
First of all, define basic settings for plugin on Settings –> Stock Ticker page. There you can set:
Single or list of stock symbols separate by comma (example: GOOG,YHOO,MSFT,AAPL).
How company will be presented on ticker (as company name or as stock symbol).
Colour for unchanged quote, negative change and positive change.
Custom names for symbols that will be used (example: "Cisco Systems Inc."). Single symbol per line in format SYMBOL;CUSTOM_NAME (symbol and name separated with semicolon).
Cache timeout for caching feeds (prevent slow website load when you have huge traffic).
Custom error message that will be displayed instead quotes in ticker when app fail to load quotes from Google Finance.
Custom CSS style for ticker item (font family, font size, font weight).
Then you can insert ticker as:
shortcode [stock_ticker] on post or page
widget to preferred widget area
by inserting PHP code to theme file: <?php echo do_shortcode("[stock_ticker]"); ?>
Customize
Both, shortcode and widget, you can additionally customize and use multiple instances with different set of stock symbols and quote colours.
Shortcode
Shortcode support same parameters as default settings and widget. Full syntax example:
[

stock_ticker

symbols

=

"IBM,CSCO,AAPL,INTC"

show

=

"symbol"

zero

=

"#000"

minus

=

"#f00"

plus

=

"#0f0"

static

=

"0"

nolink

=

"1"

]
So, available parameters are:
symbols – (string) single or comma separated stock symbols
show – (string) can be name for Company Name or symbol for Stock Symbol
zero – (string) hex value of colour for unchanged quote
minus – (string) hex value of colour for negative change
plus – (string) hex value of colour for positive change
static – (boolean) enable static unordered list instead scrolling ticker
nolink – (boolean) do not link ticker item to page on Google Finance
Widget
Multi instance widget can be re-configured with all settings available for default plugin settings. So, you can (again) set individual:
stock symbols
how will company be represented (as name or stock symbol)
colour for unchanged quote, negative and positive change
make ticker static (or not)
Preview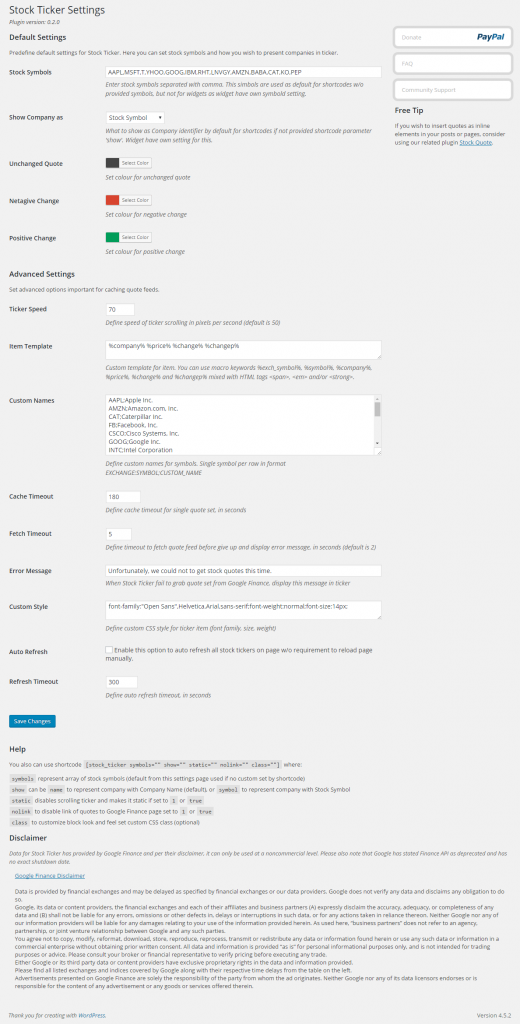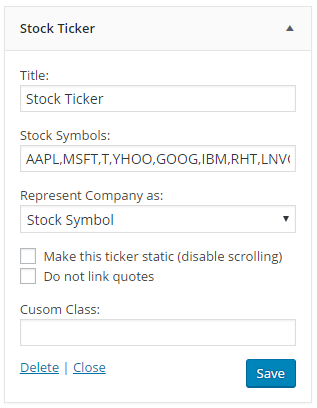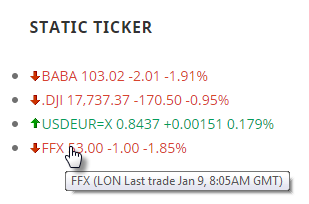 And we appreciate your support
Spread voice about Stock Ticker on social networks, rate and review on WordPress.org, feedback in comments below or