Time Machine is extension for WordPress that, in general, provides widget to list posts published on same day in past.
Jump to: Features | Download | Installation | Usage | Customize | Preview | Credits | Your Support
Features
Set number of headlines to list

Set custom message to be displayed when there is no posts for current day in past
Optional include pages in listing
Optional exclude current year
Set offset, offset direction (before, after or both) and chose time range (disabled, hours, days, weeks and months)
Optional displaying excerpt and set custom excerpt length
Set excerpt prefix and suffix (HTML tags)
Print only public posts (drafts are excluded)
Excludes password protected posts (there is option to include them)
Valid XHTML 1.1
Download
Or visit official WordPress.org page here http://wordpress.org/plugins/time-machine/
Installation
Time Machine is easy to install, same as any other extension. You can do it manual or automatic.
For manual installation: download, unpack archive and upload directory time-machine to wp-content/plugins/ directory on your hosting server with some FTP client (I recommend free and safe FileZilla).
For automatic installation: go to Plugins → Add New, enter keyword time machine, click Search button, click link Install Now.
Usage
After activation on Plugins page, add widget to sidebar on Appearance → Widgets, and proceed with widget configuration.
What is "Time range"?
By default, Time Machine will list only posts published on same month day in past years. But, you can set offset and force displaying posts published, for example, on same day and three days before (if today is October 10th, you'll get posts published in range from October 7th to October 10th in previous years).

Preview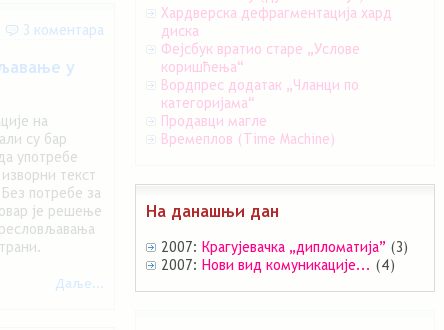 Credits
Thanks to all of you who use Time Machine.
Note about Google News
Obragblog noticed "issue" with Time Machine on our WP support forum.
Just a note of caution for folks working to rank in Google news… this plugin does exactly what the author says it will, I thought it was a great feature but shortly after implementing it Google News stopped picking up any posts.

Investigating this through Google webmaster tools showed me that links in the Time Machine sidebar widget were causing Google to reindex old posts and killed my ranking as articles had "Date too old". A few days after I disabled the plugin google news is back, but it really killed my traffic for about a week.
And we appreciate your support
Spread voice about Time Machine on social networks, rate and review on WordPress.org, feedback in comments below or